Although almost every restaurant has a chocolate dessert that promises to shine, I've eaten many disappointing flourless chocolate cakes, ice creams, puddings and the like, that did not make for a brilliant ending to the evening. So while wandering around Québec City a couple weeks ago, I was happy to stumble on Restaurant l'Échaudé, a bistro in Vieux-Port that utilizes chocolate beautifully in their desserts.
First up, a chocolate tasting using three types of Domori Grand Cru. This dessert was a nice twist on three classics – dark chocolate ice cream with crunchy roasted peanuts, a smooth and decadent pot du creme and a truffle studded with cacao nibs and a single cherry that complemented the chocolate's citrusy notes well.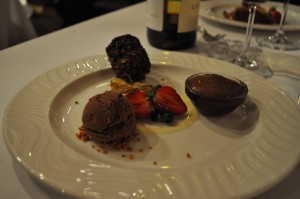 Next, a chocolate and pistachio ice cream sandwich with a sandy cacao based cookie, and a rich, flavourful, complex chocolate ice cream studded with pistachios.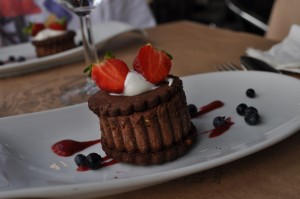 So while l'Échaudé keeps up the good work in Québec, I will leave you with the link to the decadent chocolate recipes featured on Valrhona's website. Have fun!
PS. After a short break the Shop is open again Thursday through Saturday. Don't forget to check the website for our new fall hours. See you soon!