We have just received a new shipment of Amedei bars and hot chocolate! More Porcelana, Gianduja, Toscana Black (63% or 70%), Toscana Red (with raspberry, strawberry, and cherry… lots of these have been scooped up already), and Toscana Blond (with pistachios) are on the shelf. And we still have the Chuao and the award winning "9" bars in as well.
There is also new Domori! We've stocked up on Javablond, Porcelana, Lattesal and a new white bar with mint, Biancomenta, that is divine!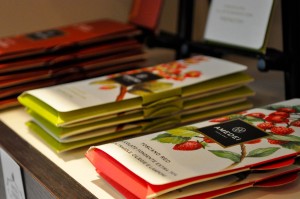 The Michel Cluizel "Sardines" are also back in store! And no, these are not sardine flavoured, they are very deceiving solid milk chocolates that make for a surprising gift, or a treat for yourself.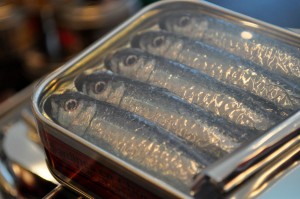 We are running a bit low on Chocophilia Drinking Chocolate at the moment (after the Olympic order!), but we should have more in the Shop later next week. Also, a bit of an update on our Mad Orange Pistachio Chocophilia bar – we are having problems sourcing the appropriate orange rind needed to complete the recipe, but we will be sure to let you know when the bar is back in stock!