Mother's Day is this Sunday so don't forget to stop by the Cocoa Room to get your Mom what she loves most: Chocolate! We have chocolate to please all Moms and their various
tastes:
1. For Practical Moms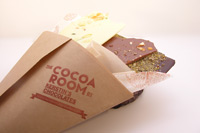 What could be better than a
bouquet of chocolate?
Our bouquet barks are the perfect gift for Moms who hate to see anything go to waste! Our collection of large pieces of bark looks like a flower bouquet, but it's extremely edible. How practical! Here are the 3 delectable flavors included in each bouquet ($21.95):

Vanilla Tutti Frutti

– white chocolate with diced mixed fruit flavored with pure vanilla beans.

Praline Crunch

– pure Venezuelan milk chocolate with caramalized nut pieces.

Spicy Rose

– dark Venezuelan chocolate perfumed with rose and sprinkled with strawberry pieces and pink peppercorns.
2. For Indulgent Moms

For Moms who like to treat themselves, we are offering 5 creamy and decadent truffles in a very pretty box tied with a bow ($12.00).
This set includes:
1 Champagne Truffle

– dark ganache with essence of champagne.

1 Lavender Truffle

– dark ganache infused with lavender flours and enrobed in our 65% dark Venezuelan chocolate.

1 Kirsch Truffle

– dark cherry ganache with kirsch and brandied cherries.

1 Honey Crunch Truffle

– milk chocolate
ganache flavored with wild flower honey and topped with sponge toffee crunch

1 Cassis Truffle

– black currant ganache enrobed in creamy white chocolate from Switzerland.
3. For Health-Conscious Moms
For Moms who like to moderate their indulgences, we've packaged our delicious dipped fruit in a beautiful looking box. Each box contains 5 plump dried pears and 5 apricots from California which we dip in pure Venezuelan Chocolate ($18.50).
Finally, you could opt for one of our Chocolate Lover's Gift Boxes in either Milk, Dark or Dark and Milk, which includes some of our fine handmade chocolate as well as a selection of world-class chocolate from great chocolate makers from around the world ($50, $75 or $100).