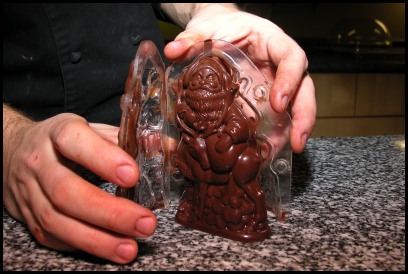 A lot of people have been asking what our seasonal line-up will be this month. Here is what we will be offering in our store starting on Dec 1st. If you would like to put in a request for a large order, please
call us or e-mail us before Dec 5th, as we cannot guarantee availability after that date.
We will be bringing backour selection of molded chocolate Santas using the finest Valrhona milk or dark
chocolate.
Will you be needing any truffles? Here are some of our seasonal specials that will be
available through Xmas:

-Tiramasu You.
-It's a bit Nibby out there!
-To Rum With Love
-A Nod To Eggnog
and more!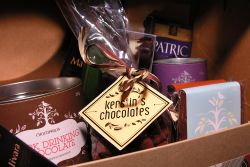 We also have gift baskets of many sizes and arrangements and custom baskets are also available. You can build your own in the store.
We will also bring back our Christmas Chocolate Trio in either milk or
dark chocolate bark. Three delicious, Christmas inspired barks packaged beautifully in a box that won a design award! Also returning are our Christmas Towers, a 4 tiered box filled with
truffles, melt-aways, spiced nuts and dipped fruit. Perfect for holiday parties and gift-giving.
Coming back soon to the Store:
Domori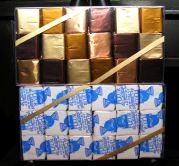 It's been a long wait, but we have finally found a new supplier of Domori chocolate! Famous for their prized "Porcelana" bar (thought to be the best bar in the world) and other gorgeous chocolate. We also have their amazing chocolate and hazelnut spread and a white chocolate bar with licorice!
A new shipment of Zotter bars are also arriving shortly. These truffle based bars from Austria combine great fair trade chocolate with imaginative ingredients such as "Black Beer", "Sour Cherry and Sesame" and "Walnut and Cheese"!
Finally, we have some incredible salted caramels from France, seen here!