Thank you to everyone who came out to celebrate the Shop's second anniversary with us! We had a great time, and hope you left with all your chocolate cravings satisfied.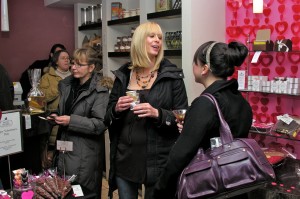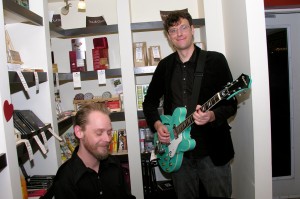 Thank you also, to all those who gave us input on the new Saffron-Rose bar. We ended up making versions in both white and dark chocolate, and asked everyone attending to vote for their favourite, as well as names for the new bar. We're still tallying the votes, so keep an eye out for the results.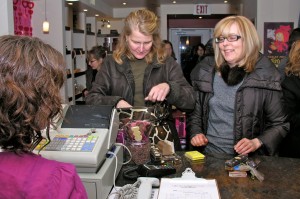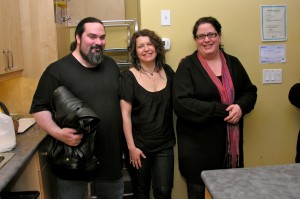 Kerstin was busy in the back of the Shop all evening whipping up Mint Chocolate Martinis and they were a hit! You all looked so chic shopping for chocolate with martinis in hand! Lots of you asked for the recipe to re-create the drink at home, so here it is:
Mint Chocolate Martinis
This recipe makes two martinis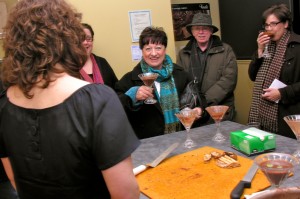 Ingredients:
4 ounces Valrhona Dark Chocolate pistoles (we were using 64% and 72% throughout the evening)
8 ounces water, boiling
12-16 mint leaves (or a couple drops of mint oil)
3 ounces Vodka
Bit of Kalhua to taste (optional, but we added it for some sweetness)
Ice cubes
Method:
Muddle the mint in a cocktail shaker or pint glass.
Add the chocolate pistoles and boiling water. Stir until the chocolate pistoles have melted and let cool to room temperature.
Add the vodka, Kalhua and ice. Shake and strain into a chilled martini glasses.
Garnish with a fresh mint leaf and serve immediately.
You can double, triple or quadruple this recipe and make it in advance if you're entertaining a large group. Simply make the chocolate-mint base in a pitcher or blender, refrigerate until ready to use, and strain it before serving.
Enjoy! And please let us know how they go over with your guests (and you) below.