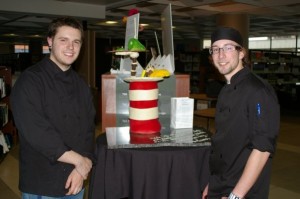 On May 5th, Jake and Curtis brought a chocolate sculpture that they designed and built at Kerstin's Chocolates to the 4th annual Books2Eat Gala Event.
The event brought together chef's and librarians to help raise money for the construction of the new Lois Hole library in west Edmonton.
Our entry into the "Edible Books" event was a chocolate sculpture inspired by the works of Dr. Seuss. There was a white chocolate hat for the Cat in the Hat, chocolate green eggs and ham, and a chocolate Lorax, and a chocolate fish. They used modeling chocolate and cocoa butter spray painting to create a very artistic sculpture.
All the Edible Books were auctioned off at the event, and this sculpture sold for the greatest amount. We are very happy that we were able to support the Edmonton Public Libraries, and we hope the owner of this sculpture enjoys it!