This blog contains contributions from Kerstin Roos, Angie Roos, and others.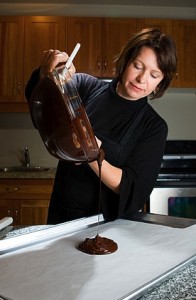 Kerstin Roos is the founder and owner of Kerstin's Chocolates, a gourmet chocolate manufacturer based in Edmonton, Alberta, Canada. Kerstin has a great passion for chocolate making. She has created a line of chocolate bars called "Chocophilia" that combines her favorite single-origin chocolates (from Venezuela, Ecuador and Madagascar) with creative additions.
Kerstin is constantly seeking out information about chocolate: the history of cacao cultivation, the processing of cacao into chocolate, the art and science of chocolate making. She loves to share this knowledge with others, and spread the wonder of chocolate appreciation. Life is too short to miss out on great chocolate! Kerstin currently lives in Germany, but is staying connected to Edmonton through this blog.
Angie Roos
Angie is Kerstin's sister and business partner. She has been involved in the business since its inception, and she is currently producing and selling the Chocophilia line in Edmonton.
Angie is just as crazy about chocolate as Kerstin and can bake a mean cake to boot!
In  years past, Marianne Stover, Rachel Pereira and others have contributed to the blog. Marianne also authors the food blog 'Loosen Your Belt'. You can find her blog here.