The Shop is fully stocked once again in anticipation of our expanded hours beginning November 9th. All four Bonnat bars are back, as well as Cluizel, Pralus, Valrhona Manjari Orange, and Corallo. Our Chocophilia section is fully stocked once again (including the Fleur de Sel milk and Hot Chocolate bars), and there are lots of Coconut, Dulce de Leche and Peanut Butter cups waiting for you in the truffle case. And now on to some new treats.
We've just received a brand new shipment of Coppeneur of Germany. Single Origin Ecuador, Papua New Guinea, Madagascar and a Trinidadian with Habanero and Lavender are all waiting for tasting. We also received some of their truffle bars (think Zotter style with these ones). Flavours include Saffron and Orange, Panna Cotta and Red Berries, and one which is certainly my favourite – Black Beer (notes of coffee and toasted malt balance Coppeneur's beautiful chocolate incredibly well here).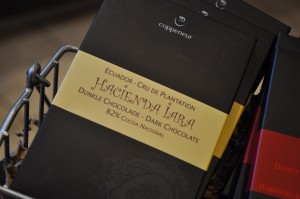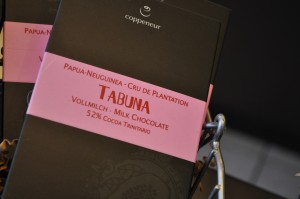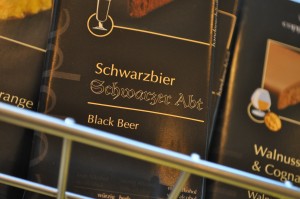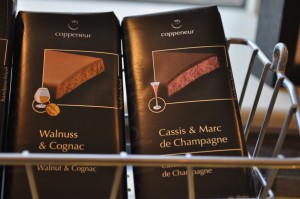 We also received a much anticipated shipment of Escazú blended bars, as well as their EZCA single origin bars. The talk of the Shop has certainly been the hand-crafted Venezuelan 60% with Goat's Milk – a dark bar with the creaminess of milk and a slight goat's milk tang just towards the end.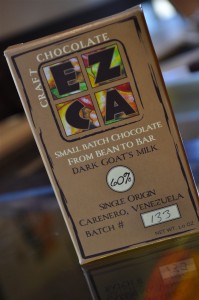 More fall truffle flavours are certainly making their way into the Shop, but the S'more Cup has been the hit of the week, flying out of the truffle case all day today. Home-made vanilla marshmallow in a dark chocolate cup, with crunchy graham wafer at the base and top makes for a perfectly decadent fall treat.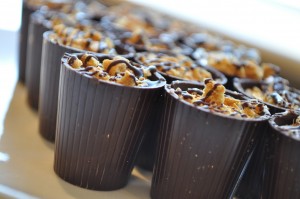 Also back by popular demand, is chocolate dipped ginger. We've also added chocolate dipped apricots to the collection for a bit of fall sweetness.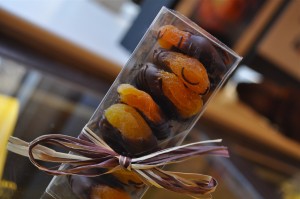 Speaking of truffles, we have recently started carrying Jacqueline Jacek's truffle collection. Based in Sherwood Park, she has gained quite the reputation this past year for her beautiful fashion inspired collections. Currently in the truffle case is the LouLou Belle collection (picture below: Pink Grapefruit Sherbet).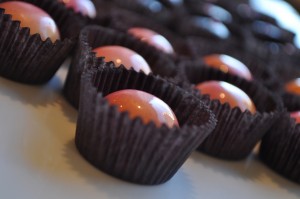 And finally, Rachel is still whipping up fresh flourless chocolate cakes and brownies throughout the week and we've received many excellent comments (and sometimes just strange moaning noises) on their deliciousness when sampling them in the Shop. But we've recently given the packaging a makeover, so these little treats are now perfect for fall gift giving, or taking home yourself to unwrap and enjoy.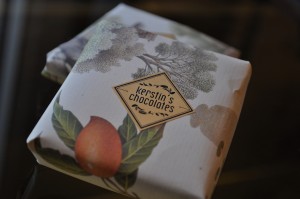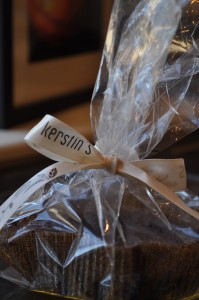 I hope you enjoy the last little bit of warm fall weather this week. And keep in mind that snow means two excellent things – more drinking chocolate evenings, which are absolutely essential for keeping warm, and our Christmas collection in the next month or so. We'll keep you posted. Until then, enjoy your chocolate.