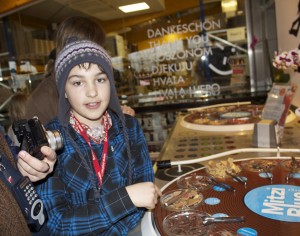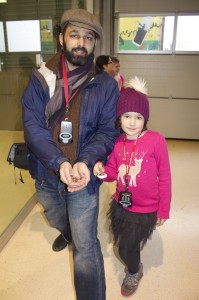 During Easter vacation we decided to visit the Zotter chocolate factory in Riegersburg, Austria which is about 1.5 hours south of Vienna in the middle of nowhere.   For those not familiar with the Zotter brand, he is a famous Austrian chocolatier who those zany truffle bars with unique flavor combinations such as cheese and wine, peanuts and ketchup (the American bar), celery root and pineapple, and pork cracklins- which sounds really weird but is actually pretty good.  Since 2008 I have sold his bars on and off at Kerstin's Chocolates. He also makes chocolate bars, a line of drinking chocolate, and many other things as I soon discovered. The tour of the factory is really a multi-sensory experience that allows you to see and learn about how things are done in the factory all the while eating your way through all the Zotter creations. For 12 euros (and a little less for kids) you can taste everything he makes, which is about 300 varieties! The tour starts at the Chocolate "theatre" where you see a film that shows Zotter sourcing his beans in India.  I found this interesting because India isn't well known as a cocoa growing country. It made more sense once we learned that he has started a project where every time he sells a bar made with Indian beans, one child in the program gets served a meal.  To learn more, click here:  http://www.zotter.at/de/das-ist-zotter/projekte/schokolade-macht-satt.html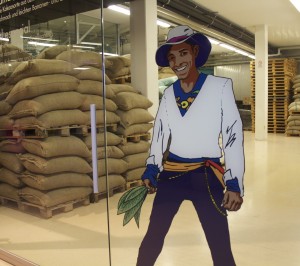 According to the movie, he pays twice the market price for organic beans and he can trace the beans back to the individual farmer in India.  There is a big focus on tranparency, not just in the sourcing of the beans, but in the factory tour as well, inviting visitors to get up close and personal with each stage of the chocolate making process from start to finish.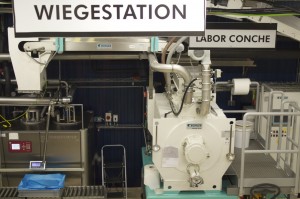 The first stop is the loading bay.   You see piles of jute bags filled with cocoa beans from different countries through a viewing window. In the adjacent tasting room, you can sample these beans in their raw form to taste the differences depending on the bean's origin.  Next we see the chocolate making equipment as our audio guide explain the uses of each machine.   The chocolate is available to taste during the different stages of processing, including the nibs, the 100% liquid chocolate, and the powdered form  before it hits the conche. The next section is where things get more exciting. At the "Shokotankstelle" or the chocolate filling station, we sample the different types of chocolate in liquid form, all of the Zotter blends. You might be compelled to stick your head under the tap and pour the liquid chocolate straight in your mouth, but instead you are asked to  use a ceramic spoon that is given to you at the beginning of the tour.  You can fill it with whatever and however much you want.  I tried to pace myself but it quickly turned into a free for all as I began to realize just how many different kinds of chocolate Zotter makes and that they are all there to sample.  After the "tankstelle" we were invited to climb the "chocolate stairway to heaven".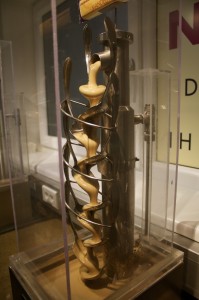 Here you could try all the different "Lambooka" bars which start with flavored white chocolate bars such as strawberry and banana and end with a pure 100% bar. The chocolate stairway faces a series of conveyor belts where the ganaches are poured, enrobed and cooled and where the finished ganache bars are packaged.  Unfortunately we picked Good Friday to visit so we couldn't see any work being done, but  I didn't really care at this point because I was on a sugar high and heading towards the hot chocolate station.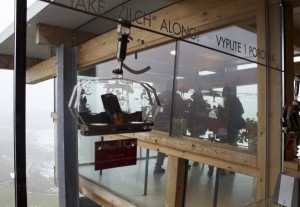 When I got there, an attendent behind the bar  was waiting to hand me a cup of hot milk.  She told me to chose a hot chocolate flavor from the miniture gondolas that encircled us overhead and around the room.   I chose chili, and plopped it into my milk (it was a solid piece of chocolate) and began whisking with my own personal whisk.  All of this was really fun and pretty soon I was no longer a reviewer but overcome with the same enthusiasm as all the other Zotter customers.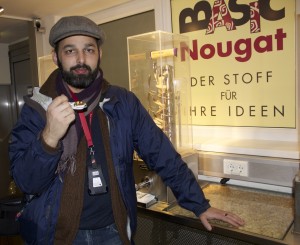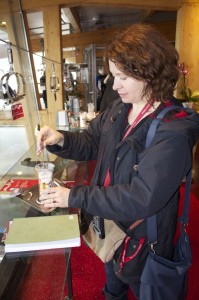 After the hot chocolate station, there was the Nougat station (the walnut was really good), the Bollero station (the fruit and nut one was my top choice) and it all ended to my surprise with the Zotter filled bars. How could I have forgotten about the filled bars? And how can I eat any more chocolate?    Of course, I could eat more chocolate and I did.  I tried all of them because, finally I could!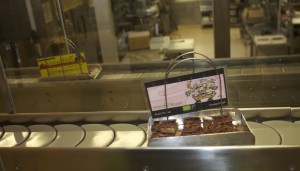 The tour was a blast and I thought they did a great job of both educating customers and entertaining them at the same time.  Zotter really has a cult of personality thing going on and we gobbled it all up.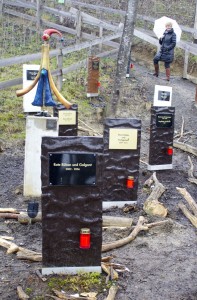 Discontinued Zotter bars ended up in a graveyard.