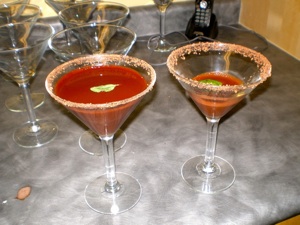 This Saturday, Feb 6th, 2010 will be exactly 2 years from the date of our grand opening in 2008. We have enjoyed meeting many of you and learning about chocolate together. We appreciate all of your support and in your honor we will have a party on the evening of Saturday, Feb 6th from 4pm-7pm. Come meet the rest of Edmonton's chocophiles! At the party there will be:
An instant-Win Truffle for each attendee that will come with a valuable mystery bonus inside.
The unveiling of our newest Chocophilia Bar flavor: Saffron Rose (Be the first to taste it!)
Chocolate cocktails (if you had the chocolate martini at our grand opening, pictured above, you know what we can do). (Non-alcoholic drinks for kids and non-alcoholics too!)
Live music by local musicians Trevor Rockwell and Kris Schindel.
To get tickets to this event, subscribe to our monthly newsletter immediately!