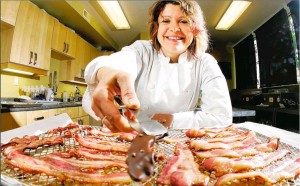 Kerstin and our Chocolate Covered Bacon were featured on the cover of 24hrs Edmonton today. Here is the text of the article:
BREAKFAST TREAT?: Chocolatier Kerstin Roos displays chocolate-covered bacon at The Cocoa Room By Kerstin's Chocolates store, 10139 112 St., Thursday morning.
But for a limited time, an unexpected yet unmistakable perfume is mingling with the rich cocoa scent.
For Father's Day, The Cocoa Room by Kerstin's Chocolates has concocted a sweet and salty treat: Bacon enrobed in chocolate.
Chocolatier Kerstin Roos fries organic bacon from a Warburg farm and dips the crispy strips in Venezuelan chocolate — with a sprinkle of cocoa from Madagascar.
"I think the only smell that's better than chocolate is bacon and we've combined them," said Roos at her 10139 112 St. shop on Thursday.
The choco-bacon, at $18 per 100 grams, is available until Saturday.
A customer who tried a strip Thursday said she enjoyed it.
"I thought it was good. It's way different between the salty and the sweetness," said Barb Walline, who stopped in during a break from work.
Since the shop opened last year, business has been rolling along smoothly.
Even the band Coldplay was to sample some of Roos' wares. She selected some of her finest chocolates for delivery to the band before its Rexall Place concert Thursday night.
Roos said Coldplay orders chocolate from a local chocolatier in each city they play.
Most of the shop's tiny truffles and nicely packaged bars are made in-house and some have surprising ingredients, such as local hemp seeds, chili peppers and candied lemon.
— Kristy Brownlee, 24 HOURS