If the shop smells even more delicious to you today, it's because we've been doing some baking! Our rich, chewy cocoa cookies are fresh out of the oven.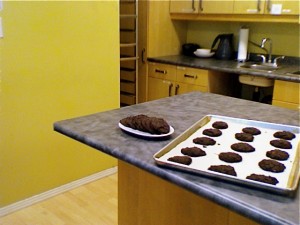 They are best enjoyed, in our opinion, with a scoop (or two) of 80% Valrhona gelato and a smattering of cocoa nibs. What says summer better than an ice cream sandwich?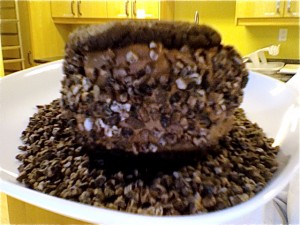 Here's how we do it at the shop:
Chewy Cocoa Cookies
adapted from Alice Medrich
140g (1 cup) all-purpose flour
1/4 tsp. baking soda
1/8 tsp. salt
57g (4 tbsp.) unsalted butter
133g (2/3 cup) granulated sugar
73g (1/3 cup) light brown sugar
48g (7 tbsp.) good quality unsweetened cocoa powder (we use Valrhona)
90g (1/3 cup) full-fat plain yogurt
1 tsp. vanilla extract
Preheat the oven to 350°F.
In a small bowl, combine the flour, baking soda and salt and stir to mix.
Melt the butter, either in a bowl in the microwave or in a saucepan on the stovetop. Add the sugars to the butter, stir to mix, then add the cocoa and stir to mix. The mixture will be somewhat thick and pasty. Add the yogurt and vanilla and stir to mix thoroughly. Lastly, add the flour mixture and stir just to combine.
Drop the dough by tablespoons onto a baking sheet and bake for about 10 minutes, until the tops of the cookies have cracked slightly and look set.
Makes about 15 medium-sized cookies