Many of you have been requesting more of the Theo Salted Caramels we had in the Shop over Christmas, and I am happy to report they have returned!
The Ghost Chile is back, along with two new Spring flavours: Rose and Lavender.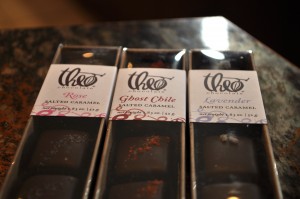 We also received a couple exciting Easter bars from them – a dark, 'Toasted Coconut' bar (this one is Vegan), and a milk, 'Salted Almond' bar. It must be spring when the pink and purple packaging comes out!
And just as a note, all of the Theo caramels and bars listed above are gluten and soy free!