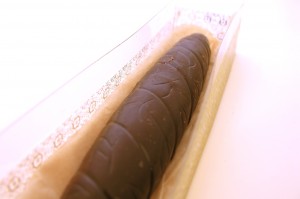 Father's Day is coming up this Sunday, and The Cocoa Room is rolling out some new items for Dad. The first is a special filled chocolate: The Bourbon Cigar. It is a dark chocolate cigar made of our 65% Venezuelan chocolate filled with a special ganache: dark chocolate and Bourbon. A wonderful treat that will put a smile on Dad's face. Click on the photo to see a larger image.
We have created a new filled chocolate in the shape of a red and gold cocoa pod. It is filled with a spicy lime and chili ganache, a new, wonderful combination that we are all now in love with.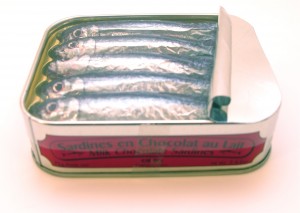 Finally, if Dad likes milk chocolate, may we suggest a novel type of chocolate: milk chocolate sardines! These gourmet milk chocolates are shaped like sardines, and will appeal to Dad, whether he is a fisherman or not. Michel Cluizel, one of France's greatest chocolate makers, makes these whimsical treats.
Come visit The Cocoa Room this week and see all of these Father's Day gifts and more!