The Edmonton Journal released an article last week on the City's infatuation with all things bacon… Both the Zotter bars and the chocolate covered bacon, available at Kerstin's, were referenced in the article, so we thought we'd better clarify the status of our bacon and chocolate treats.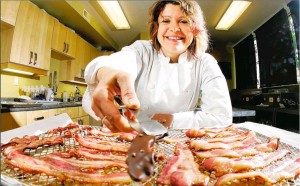 We did get some Zotter Bacon Bits bars in a couple weeks ago, but alas, they are already sold out! We'll be sure to order some as soon as possible and will let you know when they are in.
Secondly, the chocolate covered bacon, featured last year for Fathers' Day will be back from June 1st to June 21st. You only have two more months to wait!
In the mean time, I will leave you with this interview from Global TV last year to get your taste buds going: