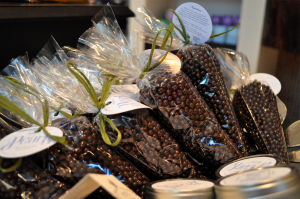 The shiny Valrhona Pearl is deceiving – the lustrous 55% chocolate exterior hints at a smooth, flavourful (though small) confection. But after trying one, you find a hidden surprise – a crunchy cereal centre that adds a unique and delightful texture.
Of course these little treats are beautiful to snack on (in moderation, of course), but they are also a fun and unexpected addition to everything from your morning bowl of cereal, to a scoop of ice cream, or your favourite cookie.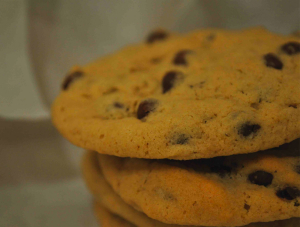 I recently added a couple packages of Pearls to a batch of chocolate chip cookies, and they were just the thing to add some contrast to this classic, soft cookie. You can swap the following recipe out with your own favourite cookie dough, but here is mine just in case.
Soft and Chewy "Valrhona Pearl" Cookies
*makes about 3 dozen
2 ¼ cups all-purpose flour
½ teaspoon baking soda
1 cup unsalted butter, at room temperature
½ cup granulated sugar
1 cup packed light-brown sugar
1 teaspoon coarse salt (or Fleur de Sel, etc., if you've got some handy)
2 teaspoons vanilla extract (or vanilla paste)
2 large eggs
2 cups Valrhona Pearls (I used two of the cones pictured above, ~12 oz)
Method
1. Preheat oven to 350°F. Whisk together flour and baking soda; set aside. Put butter and sugars in the bowl of a stand mixer fitted with the paddle attachment. Mix on medium speed until pale and fluffy (about 2 minutes). Reduce speed to low. Add salt, vanilla, and eggs; mix until well blended (about 1 minute). Stir in Valrhona Pearls.
2. Drop heaping tablespoons of dough onto parchment lined baking sheets, spacing cookies 2 inches apart. Bake cookies, rotating sheets halfway through, until edges turn golden but centres are still soft (about 10 – 12 minutes). Let cool on sheets on wire racks for 2 minutes, the transfer cookies to racks, and test one out! To store, let cookies cool completely, then transfer to and airtight container, with parchment between each layer. These cookies keep for up to one week at room temperature.
*This recipe was adapted from Martha Stewart's "Holiday Cookies" magazine, 2005 edition.