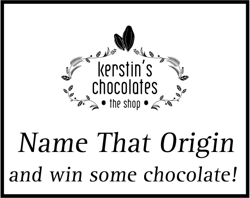 Update (Dec 22nd, 2009): The finals are tonight at 7pm! If you are competing, you will have been notified by e-mail. Everyone is welcome to attend!
Update (Dec 17th, 2009): We have 12 winners of the first round so far, so make sure to enter before the 22nd!
After the big response to our city-wide Easter Egg Hunt this spring, we decided to create another fun event that you can participate in. This one will be a challenging task that will push your knowledge of chocolate to the limit. Do you know your cacao? Are you ready to prove it? Like with fine wine, each cacao growing region in the world produces beans with a distinctive flavor. With practice, almost anybody can learn to tell the difference between chocolates made from beans from different countries. We want to find the people with the greatest palates in the city. We call this contest the "Name That Origin" game. It will run from Dec 3rd to Dec 22nd. The rules are simple, and there is no fee to play! Here is how you do it:
a) Come in to Kerstin's Chocolates (10139 112th St.), and fill out an entry form. You will then be given 4 small pieces of chocolate to taste.
b) You will have to figure out the country of origin of the cacao used in each of the chocolates (all chocolates will have a single country of origin for the cacao.) and write you answers on the entry form.
c)If you don't name the correct countries of origin you will receive a 20% discount card and will be entered in the wildcard draw to compete in the Chocolate Tasting Challenge.
d) If you do get them all correct, you will instantly win one container of our Chocophilia drinking chocolate (Spicy or Dark, an $18.95 value). You will also be invited to a special a Chocolate Tasting Challenge event on Dec 22nd. At this event, there will an extreme chocolate identification challenge for all the winners of the first tasting and the wildcard entries. The person who prevails at this event will win a $400 gift certificate from Kerstin's Chocolates and the title of "The Top Taster".
Some finer points to note:
1) We will choose the 4 chocolates that you will taste from a larger pool of chocolates.
2) Each entrant will get different chocolates in a different order.
3) Each entrant will be told which of the answers were right and which was wrong.
4) Each entrant can participant once and only once in the contest!