It's no secret that heat and chocolate don't mix. Here at Kerstin's, the warm, late-summer weather can definitely pose problems in the kitchen. Of course, we have air conditioning, not only to ensure that the quality of our chocolate is top-notch, but also to provide a respite from the swelter for all of our customers.
But what to do when it's time to go home for the day, when you have to step first into the sun, and then into a house that's been baking in it for hours? The answer, friends, is tea.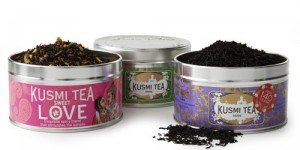 The idea of tea on a summer's day may seem about as appealing as plunking yourself down on hot sand, but there is a reason that tea is the one of the most popular beverages around the world (and in warm-weather countries in particular). Many argue that drinking hot beverages speeds up the metabolism and makes us sweat more, eventually cooling us down.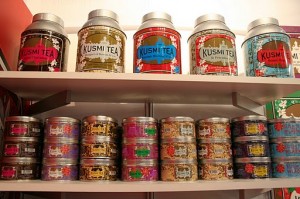 Whatever the reason, it really does work, and the Kusmi tea that we have in the shop is impossible to resist – you can't help but ogle the sparkly little tins. If you still can't wrap your head around the idea, they work wonderfully over ice as well.
We always have a few kicking around in the kitchen and they disappear at an alarming pace, no matter the weather (and anyway, after a few hours, that air conditioning can feel downright cold). We carry a wide variety, including red tea from South Africa, Chinese black tea spiked with citrus and vanilla and even a 'Be Cool' blend: decaffeinated with verbena, rosehip, liquorice and peppermint. Stop in this week and pick one out; you'll be back for another before you know it!