The Shop is full of all sorts of colourful Easter treats right now!
We have three types of Easter eggs – a small, house made marshmallow filled egg, a medium sized, hand painted hollow egg, and a large egg filled with crunchy Valrhona pearls. All the eggs come in white, milk, and dark, and the medium sized ones are flavoured. The essential hollow Easter bunnies are sitting neatly on a shelf too, in milk and dark, waiting for owners.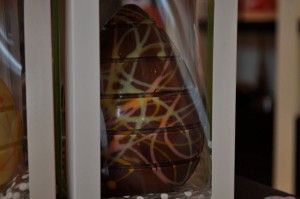 Also for Easter, are Dulce de leche filled eggs, lots of fun solid shapes, and white, milk and dark bunny lollipops!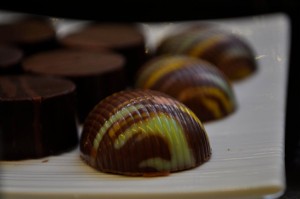 We have also received bright blue 'Robins' Eggs' from Michel Cluizel – milk chocolate and praline ganache, wrapped in a milk chocolate shell… these ones are certainly great for 'the hunt'!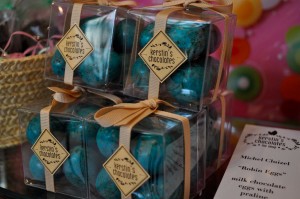 And finally, there are assorted Easter 'baskets' filled with Valrhona Pearls, a small solid bunny, a Theo flavoured bar, a bunny lollipop and a few of the 'Robins' Eggs'. This is a great, seasonal switch up for the chocolate lover in your life!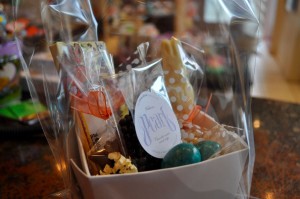 Happy Easter!