Madagascar chocolate is an easy sell for me – I love the flavour of dried fruits, the slight spiciness, and mostly, the citrus. Of course, Valrhona was the one to step up with this flavoured bar, studded with candied orange rind, to give their 64% Manjari that extra edge. Valrhona's efforts did not go unnoticed – they were awarded Gold for this one in 2009, at the Academy of Chocolate's annual competition.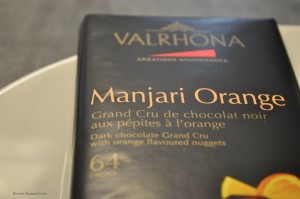 Valrhona always does a great job in the tempering department, and this one has their characteristic sheen. I also love the light orange-brown colouring on this one, which hints at the citrus flavours to come.
Of course this bar smells as expected – like oranges. But a cinnamon-cloves scent also brings up the rear… definitely worth waiting for.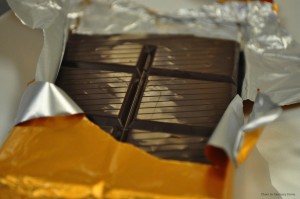 While I don't generally select Valrhona's Manjari chocolate for my Madagascar fix, here its light, crisp fruit flavours provide a perfect base for those flavourful chunks of orange. For me, this is exactly what their Manjari chocolate needs – a big hit of that sweet, acidic citrus that I love in other Madagascar chocolates.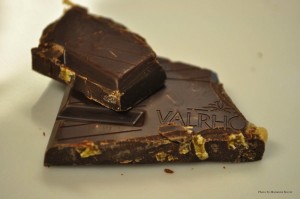 In the end, I think it is this bar's versatility that carries it a long way – whether you need a mid-day (or morning) pick-me-up, or a refreshing yet decadent finish to a winter meal, this one certainly delivers.
Let us know what you think of this bar! Also, if you have any favourite bars you would like us to post on, leave a note below!