Compared to the likes of Amedei, Pralus and Cluizel, Amano is a relatively new chocolatier, who started up in 2006 in the Rocky Mountains of Utah. Although only four years old, Amano has come out of the gate strong, picking up more than a few awards from the Academy of Chocolate in 2009.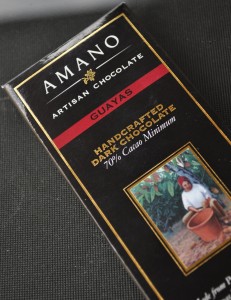 Opening any Amano bar is always special, and this one is no different, with a rich, almost milky, brown colour reflected throughout the surface. Immediately there is a lovely, sweet floral note, along with the essential vanilla, and maybe a few hints of coffee for good measure. The attention to quality is seen in the bar's shiny finish, and a refreshing snap notes the good temper.
As with their other 'single origin' bars, Amano has really allowed the flavour of the bean to shine here. Lots of florals as hinted at by the initial aroma, along with some brightness from something like raspberries or blackberries. Also, there is a big hit of cinnamon in this one that went all the way through for me. Just at the end, a slight bit of smokiness to balance everything out (this is the perfect amount for those of us who find Ocumare's smokiness too overpowering). With a nice, long lasting finish, this bar is a definite winner.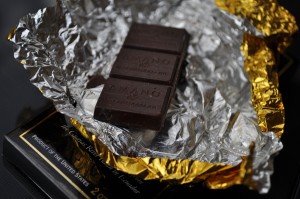 One of the great things about Amano is the obvious passion that goes not only into their bars, but also into the relationship between their company and the farmers and communities who cultivate the cacao used for their chocolate. You can read the stories behind Guayas and Amano's other bars here.
Their website also features a fairly extensive and useful write up on tasting chocolate here.
We've got a wide range of Amano's bars stocked in the Shop, so come in and test one (or two, or three…) out – you won't be disappointed.