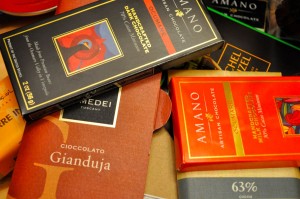 If you love organic chocolate, there are still some tickets left for our organic chocolate tasting on Wednesday, April 14th.
We've added a new tasting on Wednesday, April 28th, that will feature 10 different milk and dark chocolates. As always, the essential bit of history and information on T. cacao will be included.
In addition to tastings, we still have one spot left in our April 11th Chocolate Making Class, and we've added a new session for May 25th. Tempering and ganache will be covered, and best of all, you get to create your very own confections to take home and enjoy!
Tickets for both tastings and making classes can be found here, or give us a call (780.990.0011) to book a spot.