Dear Fans of Chocolate,
September is upon us and Kerstin's Chocolates is open again
for
business! Thank you for your patience by holding out for the
month of August while we were closed. We hope that we can share with
you many new and exciting chocolate experiences this fall.
Name Change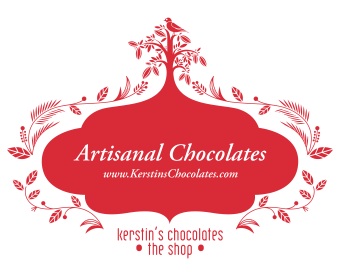 Yes, we have really changed the name of our shop from "The
Cocoa
Room by Kerstin's Chocolates", to "Kerstin's
Chocolates". Although "The Cocoa Room" was catchy and fun, we
realized that having different names for different aspects of the
business was confusing. We are in the process of changing the signs
inside and outside of the shop to reflect the new name and make our
location easier to find. We thank you for your patience during the
transition!

New Products coming soon…
Due to the hot weather at the end of August and beginning of September,
the shop is not fully stocked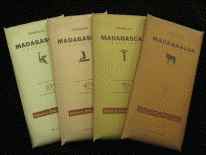 yet, but we are excited
about the new products coming at the end of the month. Here's
a preview:
Medecasse
Single
origin bars from Madagascar. We are really excited to have
this
chocolate available at the shop because it is one of only 2 bars in the
shop(the other is Claudio Corallo) that is made in the country of from
where the beans are grown. The cool thing about this is that
more
profits stay in Madagascar where the people need
it. The
chocolate is organic, directly traded and absolutely delicious! To find
out more, see: www.madecasse.com
Theo
Chocolates
A
relatively new company out of Seattle that makes fair trade and organic
chocolate. Theo create uniquely flavored chocolates like Curry and Coconut or Bread and Chocolate. We will also have available their single origin bars and a very nice milk chocolate
bar. Check out www.theochocolate.com

Finally: a new shimpment of Pralus will be arriving shortly, including
the extremely popular 100% bars and the outrageously good chocolate
covered cocoa beans.
To keep abreast in realtime of all of these arrivals, current truffle
flavors and more, follow us on Twitter or
connect on Facebook.
New chocolate tasting workshops and chocolate making classes
We will have
Chocolate Tasting workshops on Sept 24th (3 tix left), and Oct 6th. We will also have chocolate making classes classes
and tastings on Oct 1st and Oct 22nd. To get tickets for these and other events, click here.


New Shop Hours
We've decided to open
the shop at 11am rather than 10 am on weekdays because there were few
customers. We are also going to be closing at 5pm on Fridays instead
of 7pm. These new hours will go into effect on Thursday, September 10th. Please check back in November for our extended Christmas hours.
Have a great September,
Kerstin and the Team